Precision Screw Machine Products
Alpha Grainger Manufacturing, Inc. • 20 Discovery Way • Franklin, Massachusetts 02038 • 508-520-4005

Our Services:
Multi-Spindle Screw Machining
Specific by Design
At AGMI, we have taken our Davenport and Guildemeister automatic multi-spindle screw machining lathes to another level through extensive retrofits done by our R&D team.
Our legacy cam-multi 6 spindle Gildemiesters and our 5 spindle Davenports are high speed, high precision machine tools with back working capabilities. They are specifically designed for small diameter parts holding tight tolerance and finish.
Achieving Higher Accuracy
The AGMI R&D team has modernized these platforms for achieving higher accuracy with state-of-the-art electronic controls, high pressure oil, filtration, thermal stabilization, daily preset tooling maintenance, and automated bar loading. Not standard units by any means and these extensive in-house retrofits showcase our quest for precision. One and done with fast cycle times and minimal downtime keep our legacy equipment finely tuned for the specialty markets we serve.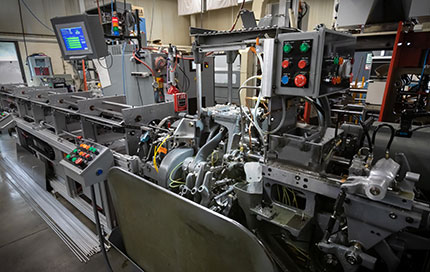 Alpha Grainger Manufacturing, Inc. is a showcase of technology and innovation.
CNC Mill Turn and CNC Multi-Spindle Screw Machining
CNC Swiss Machining
Multi-Spindle Screw Machining
Rotary Transfer Turned Parts